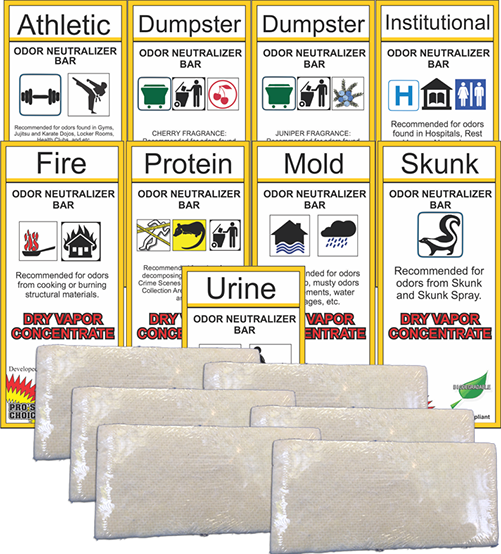 Dry Vapor Bar:
The Vapor Concentrate gives you total control over the amount of vapor released and the length of time your concentrate will last.
The VDT-4200 is designed to treat up to a 20,000 cu. ft. area. The tunnel can be placed on any flat surface or attached to the wall with simple Velcro tape.
The Vapor Concentrate Squares/Bars are placed into the Tunnel by sliding one of the supply trays out and pressing the Square onto the pins.
For a controlled release of vapor you will leave the plastic wrap of the Vapor Concentrate Square/Bar in place. You will cut a slit in the top of the wrap to allow the vapor to escape at a controlled rate. The longer the slit the more vapor is released and the faster the vapor concentrate is used up. The shorter the slit the less the vapor is released and the longer the vapor concentrate will last.
The vapor release from a Vapor Square or Bar will begin to decline after approximately about 350 hrs. Although the vapor production begins to decline the production will continue for over 500 hrs. So as more vapor is needed add an additional square or bar but leave the existing one in place to contribute vapor until it is completely exhausted.
For very high concentrations of vapor for short periods of time (up to 150 hrs.) remove the plastic wrap from the Vapor Square/Bar completely.
When the Vapor Concentrate is not in use place it in a sealed plastic bag to preserve it.
Institutional: Recommended for odors found in Hospitals, Rest Homes, Nurseries, Police Stations, Public Restrooms, Jails, and Etc.
Protein: Recommended for odors from decomposing proteins found in Crime Scenes, Autopsy, Garbage Collection Areas, Dead Animal, and Etc.
Fire: Recommended for odors from burning structural materials.
Smoke: Recommended for areas contaminated with tobacco or cannabis smoke. Also effective in plant growing and harvesting environments.
Athletic: Recommended for Gyms, Jujitsu and Karate schools, Locker Rooms, Health Clubs, and Etc.
Dumpster: Recommended for trash collection areas and trash chutes. Available in Cherry and Juniper fragrance.
Urine: Recommended for any area having urine or ammonia like odor.
Mold: Recommended for areas having damp musty odor. Water Damage Restoration, Basements, Antique Stores, etc.
Skunk: Recommended for odors from Skunk and Skunk Musk.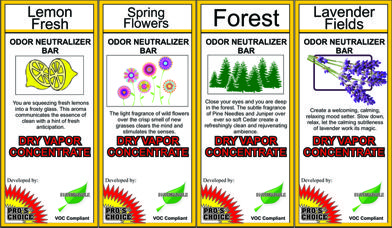 Lemon Fresh:

 

You are squeezing fresh lemons into a frosty glass. This aroma communicates the essence of clean with a hint of fresh anticipation.


Spring Flowers:

 

The light fragrance of wild flowers over the crisp smell of new grasses clears the mind and stimulates the senses.

Forest:

 

Close your eyes and you are deep in the forest. The subtle fragrance of Pine Needles and Juniper over ever so soft Cedar create a refreshingly clean and rejuvenating ambiance.

Lavender Fields:

 Create a welcoming, calming, relaxing mood setter. Slow down, relax, let the calming subtleness of lavender work its magic.