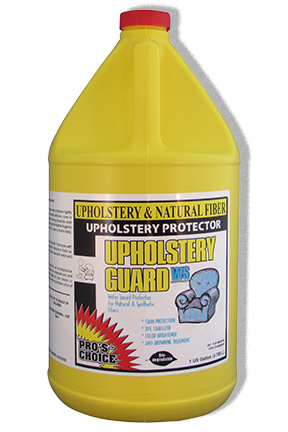 Description:
Upholstery Guard WS is the most advanced technology in upholstery care.  Use it on water safe upholstery to shield textiles from spills and stains.  Use it to stabilize dyes, brighten colors and prevent browning.
Usage:
For dry fabrics:
Dilute 1 to 1 with water and apply at the rate of approximately 1 ounce square foot of fabric.
For damp fabrics:
Use undiluted at the rate of approximately 1 ounce per 2 square feet.
Adjust your application according to thickness and bulk of the textile being treated.
Apply using a pump-up sprayer with 50% overlapping passes.  Brush lightly to assure even coverage and penetration.
Your sprayer tip should be a unijet 65015 or equivalent. Smaller nozzels that produce a finer spray are not to be used.  DO NOT AEROSOLIZE.