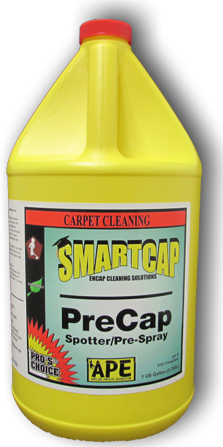 Description:
PreCap Spotter/Prespray is an aggressive encapsulating cleaner that can be used without extraction to remove  tough soil such as filtration lines, heavy traffic lanes, Spills and Etc
Dilution:
You may dilute PreCap up to 4 to 1 with water. Adjust your dilution to match the severity of the soil. For severe spots and filtration lines use it undiluted.
Directions:
Apply to soiled area by spraying liberally, agitating the area to assure penetration and loosen soil then absorb the soil and solution with a dry absorbent cotton bonnet or towel.  You may follow this with your normal low moisture cleaning procedure.  For more aggressive cleaning boost with Peroxy Plus Catalyst Booster.