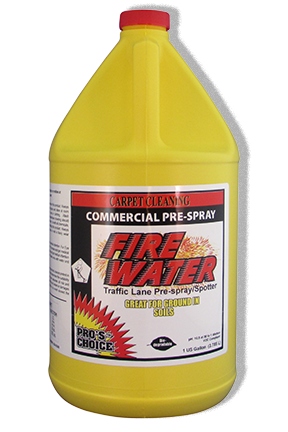 Description:
FIRE WATER is a complete, carpet cleaning compound. You will find Fire Water especially effective when fine particulate soil (clay, carbon, filtration, etc.) is encountered.
Usage:
Shake well before use. For normal light soil dilute 100 to 1.  Increase your concentration as needed for heavier soil.  All Injection Sprayer dilution ratios assume sprayers are set at 8 to 1.
Using a dilute solution of Fire Water pre-spray heavy soil areas of carpet and agitate gently to emulsify and suspend soil prior to hot water extraction.