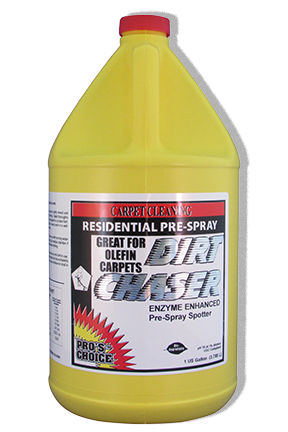 Description:
Defender improves the quality and appearance of indoor environments through soil and contamination reduction.
As the most advanced, multi-function carpet protector, Defender benefits you in 5 powerful ways:
It prevents wicking by interfering with the osmosis that carries soil up the fibers during the drying process.
It works to prevent yellowing by neutralizing the pH of the carpet.
It protects against stains by blocking the stain from attaching directly to the carpet fibers.
It reduces re-soiling by preventing the soil from attaching to the carpet fibers.
It improves the cleaning performance of vacuums by rapidly releasing dirt into the vacuum.  Traffic lanes will not appear as soon as they normally would.  Carpets will stay clean longer.  And when combined with proper maintenance, the accumulation of soil and other contaminants will be noticeably reduced.
Usage:
Dilution:
For normal stain and soil protection: Dilute 1 part Defender into 5 parts water (26oz. product per 1 gallon of water).
For problem areas where rapid soiling and/or wicking occur: Dilute 1 part Defender into 4 parts water (1 quart product into 1 gallon of water)
Application:
Apply the Defender solution following your cleaning procedure while the carpet is damp.  Use a pressure sprayer equipped with a .04 Tee Jet style tip to achieve an even over-spray of protector solution to the damp carpet surface.
Use overlapping passes to assure uniformity of solution coverage.  When treating problem areas, increase your solution application to match the severity of the problem that exists.  Coverage for normal usage should be 1600-1800 sq. ft. per gallon of concentrate.
Technical Note: Expect cut pile carpets to be slightly stiff when completely dry following treatment.  This is normal and will disappear the first time the carpet is vacuumed or groomed.