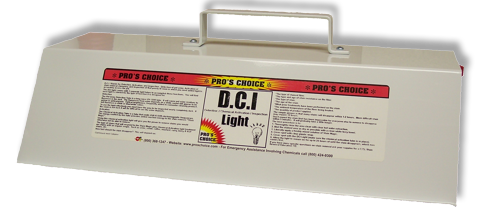 Description:
D.C.I. Stands for Detection, Activation, and Inspection.  Detection of pet urine, Activation of stain removal chemistry, and Inspection of that poorly lit room in which you need added light to accurately access the job. The DCI light comes with 3 separate light tubes to accomplish these functions.  You will find each light is labeled for the type of function it is designed for.
Usage:
The Pet Urine Detection Tube is a long wave UV- UVA tube.  It will cause pet urine residues to fluoresce in the dark.  The fluoresces from urine deposits on a white carpet will appear to be yellow or yellow/green.  Optical brighteners, frequently added to consumer cleaning product, will fluoresce in white or blue/white colors.
To use the light effectively you must have the area to be inspected nearly completely dark.  If the room is not dark it will be difficult to see the urine deposits.
Chemical Activation:
The Chemical Activation Tube is a tube that emits UVA & UVB electromagnetic frequencies.  The energy emitted by this tube provides added reaction energy to the stain remover "Stain Magic".
Using this chemical activation light will give you the power to remove stains you would otherwise not be able to remove.
The type of stains that will respond to the Stain Magic plus Chemical Activation light treatment are stains with an organic origin.  Such as urine, vomit, coffee, mustard, curry, berry & fruit stains, etc.
How fast should the stain disappear? This will depend on:
The type of stained fiber.
The type and age of stain resistance on the fiber.
The type of stain.
The age of the stain.
What prior treatments have been performed on the stain.
The ambient temperature of the floor being treated.
The quantity of product applied.
The simple answer is that many stains will disappear within 1-2 hours.  More difficult stain may require 12 hours.
Don't expect the stain that has been impossible for everyone else to remove to disappear within 5 minutes.  It will probably take a little longer.
The best procedure is to:
Thoroughly rinse the area clean with clear hot water extraction.
Blot the stained area as dry as possible with a clean white terry towel.
Liberally apply a freshly mixed solution of Stain Magic.
Cover spot with the DCI Light (make sure the chemical activation tube is in place).
Allow the light to remain on for up to 24 hours of until the stain disappears, which ever comes first.